Painting large areas of either the interior or exterior of your home can be a major undertaking. Recently I found the time had come to repaint the living room in my house, no small task considering the size of the room. Where I have always used a selection of rollers, pans, and brushes, this time I wanted to see what was out there to make the task easier and faster.
According to the manufacturer, the Pain Zoom Paint Sprayer offers a one touch operation that is simple to use and will reduce the time needed to paint an area and the amount of paint you need to use by up to half. It offers a three-way direct dial spray head, no drip operation, and can easily get into tight corners. Having seen the infomercials for the Paint Zoom Paint Sprayer, I decided to order one and see how well it really worked.
In the Box – What You Get
I was pleasantly surprised when I opened the box as there seems to be a fair number of negative reviews for the Paint Zoom. What I found was a lightweight air power unit that seemed to be of relatively high quality along with everything I needed to get started with the exception of the paint.
Inside the box are the following:
One air power unit
One shoulder strap
One connecting hose
One spray gun with easy dial spray nozzle
One instructional DVD
One owner's manual / instruction booklet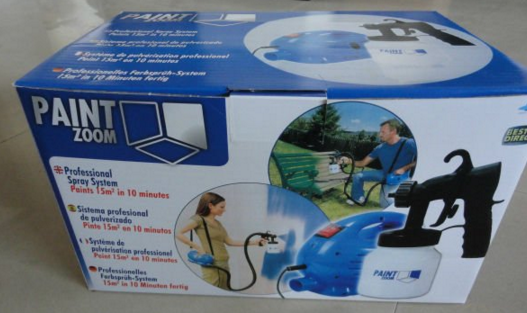 One thing that concerned me was the idea of carrying the power unit around while I painted. Thankfully the air supply unit is very light and can easily be carried on your shoulder with the enclosed shoulder strap for extended periods of time. Everything in the box seemed to be top quality and designed to last.
My First Impressions
One thing to keep in mind is that this is not a professional airless paint spray unit. These use a liquid pump to force the paint out of the nozzle and onto whatever you happen to be painting. These sprayers cost hundreds if not thousands of dollars. The Paint Zoom on the other hand uses air to force the paint through the nozzle. Because of this, you will need to dilute the paint you are using with water in order to reduce its viscosity sufficiently to flow smoothly through the nozzle.
I have to admit it took me a little while and a certain amount of trial and error to figure out how far the paint I was using needed to be diluted in order for it to work in the Paint Zoom. While many people found this as a reason to complain and say that the Paint Zoom does not work, I found this was not a major problem as long as you are willing to work to find the proper viscosity for the paint you plan to use.
Worth noting is that since you are effectively spray painting, you can expect a certain amount of overspray that can end up in areas where you don't want paint. This includes flooring, carpets, furniture, windows, trim, and many other items. So before getting started, I taped and masked off areas where I didn't want paint overspray and covered the carpet in the room I was working in. While there was noticeable overspray, everything was protected leaving me with little to no mess to clean up.
While the infomercial stated that I should be able to complete the job with a single coat of paint, I did find that a single coat of paint was not quite enough despite using a top quality brand of paint. Fortunately, the Paint Zoom made painting fast and painless so going back and doing a second coat was not a problem, in most cases I have had to do this even when using a roller or brush.
| | |
| --- | --- |
| Pros | Cons |
| Lightweight | Takes time to learn to get best results |
| Easy to use | Can end up with significant overspray |
| Fast coverage | Paint has to be diluted properly |
Final Impressions – Worth the Money?
Although I have to say I was very skeptical as there are a number of negative reviews of the Paint Zoom Paint Sprayer to be found online, the vast majority of them seem to be from people who did not read or follow the instructional DVD and booklet. As long as the paint is properly diluted, it flows smoothly through the adjustable nozzle, letting you get into tight spaces and corners with ease. Coverage may not always be quite as advertised, meaning that in most cases a second coat is going to be necessary.
As long as you take the time to protect the area in which you are painting with drop cloths and painter's tape, you can eliminate the risks of overspray and reduce the amount of mess you need to clean up. Speaking of cleanup, as long as you are using a water soluble paint cleanup is easy. Simply empty any leftover paint out of the canister and fill it with hot soapy water. Spray the water out through the nozzle and repeat until everything is clean. This will prevent the nozzle from becoming clogged with dry paint and leave it ready for the next paint job.
Since the paint is sealed in the canister until you hit the trigger, you can even take a break or finish the job the next day without worrying about your paint drying out. It does take a little practice to get the right distance between the Paint Zoom paint sprayer and the surface you are painting. I recommend practicing on something besides the wall or item you are painting until you get the hang of it. If you are too close you end up with runs in your paint, too far away and you end up with far too much overspray and an excessive light coat of paint.
If the paint is too thick or you are running out of paint, the stream of paint will begin to pulsate. However, this is easy to fix by adding more paint or diluting what is in the canister. The best part is that the Paint Zoom Paint Sprayer comes with a full one year warranty the covers all manufacturing defects. A great product that I highly recommend as long as you are willing to follow the included instructions on the DVD.