With so many different saws and saw attachments available today, finding one that not only meets your basic needs, but also has the ability to take on a wide range of projects can be difficult. From rotary cutters to cordless saws and drill attachments, it seems like finding one saw that has the ability to tackle a range of cutting tasks is almost impossible. However, the Dremel Saw-Max may be just what you are looking for.
The Dremel Saw-Max was designed to have the power to cut practically any material and yet be small and flexible enough to be used single-handedly. The ergonomically designed case is supposed be very comfortable to use and the lightweight design should make long term use easier. Typically, I work on a number of different projects over the course of the year, so I decided to give the Dremel Saw-Max a try and ordered the complete kit.
What's in the Box
Upon opening the colorful and detailed box containing the Dremel SM20-02 120-Volt Saw-Max Tool Kit, I was happy to see that everything was carefully packed within the convenient plastic storage case. For once I was pleased to see that some effort had been made to provide a well-made case that looks like it will last for a long time.
Inside the case are the following items:
One Dremel SM20 Saw-Max Tool
One SM842 2 X 4 cutting guide
One TRSM810 dust port adaptor
One SM500 multi-purpose carbide cutting wheel
One SM510 metal cut-off wheel
One SM540 tile diamond cutting wheel
One SM600 multi-purpose flush cut carbide cutting wheel
One owner's manual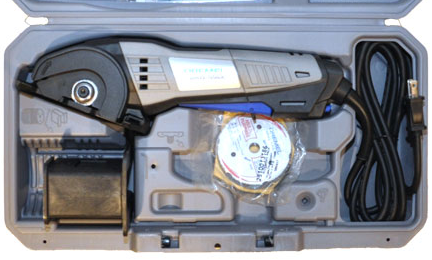 After unpacking each of the items, my first thoughts were that they all looked as if they were up to the expected standards from Dremel. However, good looks do not always indicate a well-built and designed product that comes close to performing up to what the manufacturer claims. In fact, there are times when pretty packaging hides a poorly made product. The real test comes with using the Dremel SM20 Saw-Max and putting it through its paces with a number of home renovation projects involving a wide range of materials.
My First Impressions
Before getting started on what I found, it is important to understand that the Dremel SM20 was designed for use on smaller materials such as thinner metals, tiles, and smaller pieces of wood. The blades that come in the kit are not, for example, made to cut through 2X4s made of hardwood or thick bars of metal such as rebar. If your project involves cutting these types of materials, you need to purchase the right tools for the job.
This having been said, one of my first projects was cutting a number of tiles that would be used in replacing the floor in my master bathroom. One of the first things that impressed me with the SM20 is the shape of the case, it fits very comfortably in one hand, making it easy to control your cut. The diamond tile cutting wheel made light work of the ceramic tiles I was using and the compact size allowed me to make a number of complex cuts with ease. One thing I did notice is that the blade tends to get hot during the cutting process, something that can be kept under control by adding a little water to the cut as you go.
Next up was some laminate flooring going down in the kitchen. While I could make the major cuts with a circular saw, many of the finer cuts had to be done on location, leaving no room for error. Here I seemed to run into a bit of a snag as the blade seemed to become dull rather quickly. Maybe it was the type of flooring I was using, but having to replace the brand new blade after a short period of time was frustrating since they are quite expensive.  I like that the cutting depth for the SM20 is adjustable so you can set it to cut the laminate in place without having to worry about cutting into to underlayment.
No matter which project the Dremel SM20 was being used on, the dust bag attachment came in handy as it collected most of the dust, even when cutting tile unless you are using water to keep the blade cooled down. No matter what I cut, the SM20 seemed to power right through it with relative ease and its light weight made it easy to keep working longer.
Pros and Cons to Consider
| | |
| --- | --- |
| Pros | Cons |
| Ergonomic Shape | Blades do not last long |
| Lightweight | Struggles with thicker materials |
| Easy to Use | Replacement blades are expensive |
Final Assessment – Would I Pay for it Again?
At first it seemed a little odd to buy a cutting tool that uses blades with no teeth, but instead had blades that were abrasive in nature. While the Dremel SM20 will cut through 2X4s, it really doesn't seem to be made for this purpose and takes a little longer to do so than an I have patience for. But then this is why I have a circular saw.
While the SM20 has a maximum cutting depth of 3/4″, this is not a problem as long as you use the tool for its intended purposes. In fact, I found this relatively shallow cutting depth helped remind me of what this saw was made for and avoid the pitfall of trying to use it for bigger cuts that might have caused problems.
One of the one real problems worth noting is that depending on the materials you plan to cut, the blades do not seem to last very long and are relatively expensive to buy. It's a relatively common problem for saws like this, unfortunately.
Bottom Line?
On the whole I am quite pleased with the Dremel SM20-02 120-Volt Saw-Max Tool Kit. The saw performed well and was up to almost every task I put it through, completing them with ease thanks to the ergonomic design, accuracy.
For anyone who is looking for a compact cutting tool that is capable of handling a wide range of projects around the house or shop, the Dremel SM20 makes a great addition to your tool box. I highly recommend this product as long as you keep in mind its intended purposes. You can check out pricing options here.